Starting a Production Company.
Starting a production company can seem daunting, your own company that you will oversee. But it shouldn't be scary as you're about to embark on a journey where you are your own boss and have complete freedom of where you want to take it. It is important to have a strong vision and to believe that you can do it. With the right steps, enthusiasm and ambition, your company will flourish!
Starting a Production Company grants you control over what TV, Video and Film productions you want to develop and produce in your company.
What is a Production Company?
A Production Company is a business that creates video content such as Feature Length Films, TV shows, Short Films, Corporate videos, and Music Videos.
A Production Company will usually work and produce their own projects along with their own creative team and then they create videos that they 're hired to produce, usually without any creative involvement in the process, usually whoever hired them has say of what they want to produce. The second project usually financially sustains the Production Company.
Starting a Production Company means you must know all the ins and outs of what a Production Company entails.
Here's our Top Ten Tips on Starting a Production Company.
Name and Branding
The first stage of starting a Production Company is deciding on a company name that people will know you by. It is important to have a name that is personal to you or that stands out, no one wants to fall asleep while looking at your business. Choosing a name can be fun, but it can be a lot harder work than it seems.
It is also a good idea to also think about your branding while you think up a name. Designing a logo that incorporates the name is a good idea as it creates visual attention, think about all the big logos you have seen in your life? They're easily associated with the brand and business, and you recognise it everywhere you go right? Branding will make your business unforgettable and it should be the first indicator of how successful starting a production company will be.
LCC – Registering your company
This is crucial in starting a Production Company. Well, you can't start a company without registering it right? Or else it's not really a company but a side project…
Registering a company varies from country to country so it's a good idea to invest some of your time in research the procedure of what you must do. Registering your company is a great way to create a separate bank account for the business to handle the finances, income, and costs of your company to keep the books clean and simple.
Running a business through your own personal account can be very messy and will only lead to future problems.
Website
Once you've registered your company, it's starting to look real! Creating a website should be your next step in starting a production company. A website again, makes the company come to life, it's a great way to get future clients to look you up and see who you are and what you have to offer.
Click here to read about the 8 best Film Production Company websites to inspire you!
Having a spot to share your company's work contact info is a necessity! There are many website builders out there if you just do a Google search. Many different template options of free and priced ones. It is a good idea to also hire a website builder if you have the budget for it.
(You should also use your website and social media page if you create one! To promote your work as an example of the kind of work that your Production Company create or will create and the Production Company's capabilities)
Equipment
One thing a Video Production Company needs is gear. Camera, Cam- Corders, Lighting and  Mics.
For most people, their camera equipment is a large expense and they forget to budget for maintenance. It's important not only in the short term but also because you'll need another one two or three years down the line!
Renting equipment is good for the short term but if you want to make your business flourish, you should buy equipment to be able to keep making video productions. Starting a production company needs good equipment, so why not invest?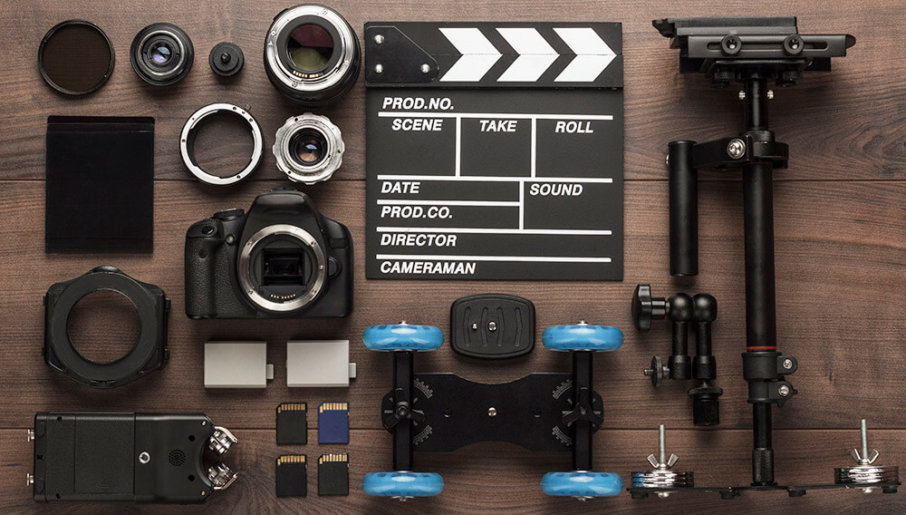 To learn more about the kind of equipment you need to start a Production Company, click here to read about Essential Gear You Need to Start Your Own Production Company. 
Finding Clients 
The key to finding clients is staying in the game and making sure you're meeting enough people. This is key to starting a production company. The good news? You can do this by just being present where your potential customers are!
Word of mouth is still the most effective way to get new clients in this climate. You'll likely start off with friends and family as your first customers, but eventually word will spread about how great you are at what YOU do–and people who never would have heard of your work before may come looking for a custom order or two!
The most important thing to remember is that you are not just trying to get clients through these channels, but also practice your pitch and treatment writing skills. You might be able take advantage of opportunities like this if they suit what it is exactly that YOU want from a client!
Build Your Portfolio 
The best way to get your work seen is by showcasing it. In order for people who are looking at portfolios or websites of artists like you, they need some sort of visual representation that will show off their skills and what kind of person or company he/she works with!
Building a website is the best option for building your portfolio and showing off your style and the kind of work your company needs. Making a website and building a portfolio is very important in starting a production company.
Other suggestions is to start a YouTube channel and also Vimeo! Vimeo is a platform very similar to YouTube, but is used more by Production Companies to showcase their work.
Find Your Niches 
Can't decide what type of content to produce? Maybe you want your company's brand identity focused on low-budget horror features, or maybe sci-fi genre projects and artistic independent films. It's important not only narrow down the types but also make sure they are in line with one another so that when it comes time for choosing which film will best represent all three brands at once (yourself included), there won't be any debate about whether this means something entirely different from last years'.
Niches are everywhere, and the best way to find your perfect fit is by looking at other people's work. I've had success finding clients in pet commercials who want me for my specialised skillset- so we can do things like make videos or design websites!
Expand Your Network
Networking is the key to success in business. It's no secret that every successful person has a good network of connections, and you can't be an island unto yourself!
It is a great thing to have a network of freelancers with each of their expertise. Also going to networking events is a great way to expand your network and finding different crew members. Knowing about different networking events is a great way to start of a Production Company.
Promote Your Company/ Social Media 
It is important to have a social media presence even if you don't plan on hiring someone specifically for this purpose. As long as your company has content flowing through its channels and outlets then they will continue being successful in today's digital world. The more you promote your company, the more people will know about it!
The benefits of using social media for your business are numerous, with the most important being that it can serve as a portfolio to showcase what you have done. It also makes interacting easier than ever before. Getting your company or portfolio out there is key to starting a production company.
If you're looking for a video production company that can provide a personal touch and produce high-quality videos, then please get in touch. We would be more than happy to discuss your video production needs.
For more tips on creating and editing videos, as well as lots of other information about the industry, check out the rest of our articles here.