How do I get into Television Production? 10 Tips!
Television production  has always been an elusive career. Covid restrictions turned the few entry level positions into almost none. With the world opening up, there are more opportunities becoming available. If you are trying to work your way into the television production industry then I hope this article will give you some new and useful tips.
Know your stuff.
Watch lots of TV, read articles, keep up to date with what is being made. This is probably the easiest part, but there is more content than ever being made. For lots of jobs in television production it is important to have a broad understanding of what's going on.
Demonstrate your interest.
This could be through online courses – ScreenSkills offers a coronavirus course that many employers want to see on your CV at the moment. Also checkout Royal Television Production Society, find free webinars. You can also show interest from doing personal projects and making your own content.
University…
…is great for academic and personal development, however most employers in production aren't too bothered whether you've got a degree in Media Production or English Literature. Working in the television production industry is all about the development of transferable skills. So, if you do want to go to uni – seriously consider what the course is going to offer you and bear in mind that if you want to become a researcher for example – then a degree that isn't media related may set you part from other candidates.
Consider if television production is right for you.
TV is almost all freelance work now. This means a certain amount of instability and likely periods without any work. Do you think that would suit you?
Which direction you want to go in?
ScreenSkills is again a great resource for this. Check out our article on jobs in production. With television production there are so many sides to television production. There are also lots of different types of television, from HETV to unscripted entertainment. You don't necessarily have to know what direction you want to go in to start with, this is why you often learn from the bottom as a runner but it helps to know what you're interested in.
Join the Facebook group 'People in TV: Runners'
Starting out with a runner job is a great way to learn and make contacts. This group has lots of helpful information and only allows paid opportunities to be advertised – quite rightly!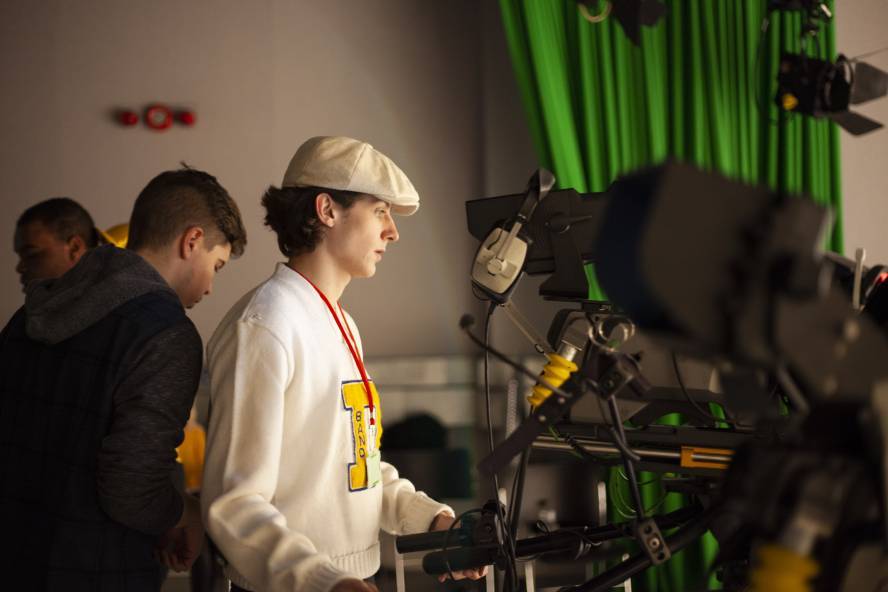 Go on the TV Watercooler website.
They have loads of amazing resources including this list of job sites to find work on. Look for traineeships, internships, apprenticeships and runner jobs when you are starting out. DO NOT pay for any job sites, all legitimate opportunities will be posted on Creative Access, The Unit List, The Talent Manager, TCN, etc.
LinkedIn
LinkedIn is great for researching companies and finding people who can give you insight and opportunities. Reach out, lots of professionals want to help people into the industry, and television production is all about connections. Also follow production companies that you like as they will often post job opportunities on LinkedIn.
Write a killer CV
Once you've found some jobs to apply to you need a CV. The key in this industry is being clear and concise. If you're seeing a job for a runner advertised online then you can bet you'll have a lot of competition. Whilst I could write a whole blog post on useful and useless information I've heard about CVs here are my top tips I have learnt
Tailor your CV for each job application, make sure it is clear you know what you are applying for
Stick to one page
Make the information scannable – if someone is spending only seconds on each CV then make the information immediately obvious
Keep education to a couple of lines, grades aren't important anymore sorry!
No pictures or fancy formatting, all this does is distract from the information telling the employer why you are right for the job
Save your CV as a PDF! Don't risk your application going straight in the bin just because the employer can't open your link
Make it clear why you are including past work experience – employers want to see your transferable skills that are relevant to the job. So if you're applying for a runner position you could include that you've worked in a bar and are comfortable on your feet for long periods of time and handling cash etc.
Cover letter
After the CV comes the cover letter. This absolutely needs to be one page or under. Include a brief introduction to yourself, why you are interested in the job and the company and why your experience makes you the right fit. No humour or irrelevant info.
When you finally make it onto set
This is your time to shine – most jobs in the industry are word of mouth so if you make a good impression then you're in and the opportunities should keep coming.
I hope this article has given you some helpful tips or resources for getting into television production. Keep an eye out for our upcoming article on getting into film production.
Here are some of our blogs:
Is There Video Production Near Me in 2022?
What Is Post Production in the modern day?
4 Things To Know About A Film Post Production Companies
Nostairway is a video production company in London. We offer all aspects of the video production process. If you need any help with your next project then get in contact with us.